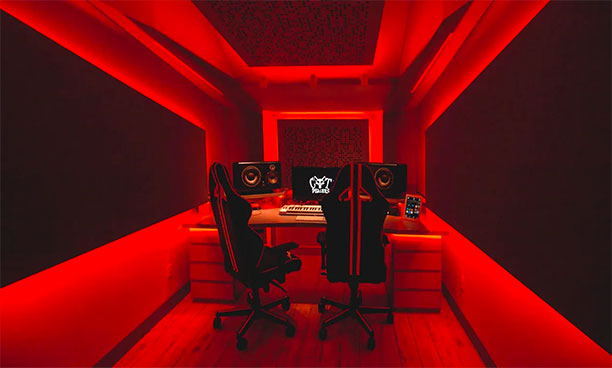 Working as Cat Dealers, Brazilian Sony Music artists, brothers Lugui and Pedrão, rank among the 'top three most influential DJs/producers in the Brazilian music scene', and their recent 'Keep On Lovin' hit confirms their continuing popularity with multi-million Spotify plays and YouTube views. To drive their remixing skills, Cat Dealers required a dedicated Control/Live Room, and commissioned WSDG Walters-Storyk Design Group to create a 'dream studio'.
'We had worked with contractor J Patrick Sulivan on a previous project,' explains WSDG Belo Horizonte, Brazil-based Partner/Director of Design, Renato Cipriano. 'He understood the importance of professional recording studio designer/ acoustician input on a critical production/listening space, and he recommended us for the assignment.
'The Cat Dealers had dedicated a compact 12m2 for the Production/Mixing Room they built in their Rio de Janeiro apartment,' Cipriano continues. 'WSDG Project Manager Alan Machado and John Storyk worked together to determine the most effective and best-sounding use of the space. We have created a number of compact "vest-pocket" rooms, and for the Cat Dealers we developed a unique ceiling cloud configuration and highly effective custom perforated wood, low frequency wall and ceiling treatments. We engaged sophisticated acoustical room simulations to refine our design program with a fully balanced frequency response and controlled sound decay.'
The Cat Dealers Production Room benefits from low-frequency treatment invisibly installed behind the fabric finishes to maintain the room's spare, clean, efficient look. Focal SM9 audio monitors tuned to the client's personal taste with a high-end DSP processor establish a 'universal sweet spot' throughout the compact space. The dedicated futuristic space is further equipped with an RGB LED lighting system to invite creative inspiration.
'Judging from their consistent chart track record, we hit the mark on all counts,' Cipriano concludes.
More: www.wsdg.com