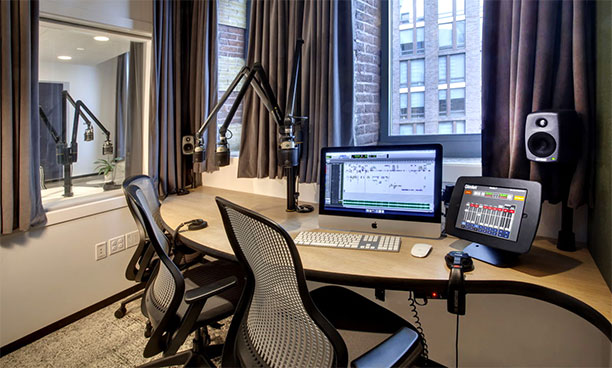 Recent statistics have it that more than a quarter of the population now listen to podcasts regularly as the 20-year old format takes hold of a new generation of media consumers. Accordingly, NY-based Gimlet Media has opened a new 28,000sq-ft production facility based in downtown Brooklyn which was designed in tandem with the acoustic architectural firm Walters-Storyk Design Group (WSDG).
The new facility catapults Gimlet's podcasting operations from a modest studio operation to a commercial-grade, custom space that promises to take its content to the next level – from both quality and efficiency perspectives. For Technical Director Austin Thompson, this is the realisation of what Gimlet has strived to achieve...
'The mission here is to be the best in class in podcasting,' he says. 'So when we outgrew our previous facility, I knew we had to get the best people we could get our hands on to design our new home.'
The new facility features 12 podcast studios, designed for different production needs, with each aligning to a consistent sonic signature. The studios fit together in a honeycomb fashion, maximising the use of the available space while providing outstanding comfort and an abundance of natural light.
'Gimlet's needs grew very quickly,' says WSDG Project Manager, Romina Larregina, who spearheaded the design. 'When they started they had 30 people, and now they have over 100. Therefore, they required a space that not only allowed them to keep growing but remain on the cutting edge of what they wanted to accomplish.'
Each studio is outfitted with top of the line microphones and recording equipment, and all of the sound is routed digitally through a customised Q-Sys Platform, designed for Gimlet's unique needs by Thompson and Matt Gajowniczek of Chicago-based integrator, SPL. This provides podcast producers with the ability to work in rooms specifically designed for their needs, taking advantage of technological advances in soundproofing, digital recording, mixing, and monitoring.
Key to Gimlet Media's efficiency is the use of Focusrite RedNet Dante-networked audio converters and interfaces.
A total of 15 RedNet MP8R eight-channel mic preamp and A/D converters equip all 13 studios, as well as six RedNet AM2 stereo audio monitoring units. MP8Rs are assigned to each podcast studio, acting as the mic preamps for each studio and interfacing with the QSC Q-Sys backbone, which handles routing and signal processing.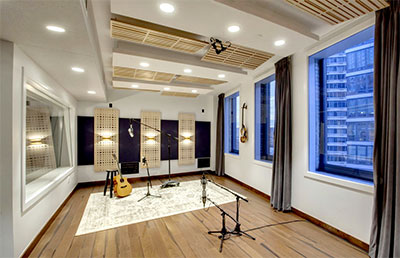 The six AM2 units are distributed as needed throughout the production facility and are used by note-takers who transcribe and otherwise chronicle the podcast production process, allowing them to be connected to the sessions without needing to be inside the studio itself.
'The RedNet MP8R units are great – they solve two issues,' says Thompson,. 'First, we're very focused on audio quality here, so the Focusrite preamps were the right choice – they sound fantastic. We're using microphones that need a lot of clean gain, which the MP8Rs give them. We did a comparison with a number of other preamps, and nothing came close.'
Then there was the ease of set-up: 'We have a large, complex IT infrastructure here, and even though our IT firm has a lot of experience working with rich-media clients, it was still a considerable learning curve, with a number of languages on the system,' Thompson explains.
Finally, he adds, the MP8Rs and AM2s compatibility with both AES67, which facilitates from the mic preamp through Q-Sys for monitoring, and Dante, which is the interconnect format for the facility's Avid Pro Tools systems, made a huge difference.
'Q-Sys speaks AES67 inherently at 48k, so all routing – the MP8Rs to Q-Sys and Q-Sys back to headphone distribution – is in AES67. Q-Sys then sends an additional discreet post-fader Dante feed out to the Pro Tools computers in each studio, and also applies sample-rate conversion to that feed so that we can capture at 44.1. RedNet is easy to use, which was a requirement we had so that our producers could access all of their archive content with a minimum of instruction. The MP8R and the AM2 hit all of the points we needed to address for connectivity here, and we're planning on putting more of them in place in the future.'
In addition to the podcast spaces, the production facility boasts a traditional recording studio with additional soundproofing and a 375sq-ft live room. The abundance of space allows ample room for unique needs – like Gimlet's scripted fiction shows, while enabling in-house recording of music for their various podcasts.
'Licensing music can get very expensive and good content is tough to find,' explains Thompson, 'Having our own studio allows us to compose custom music at a larger scale.'
Aside from efficiency and the embrace of a self-op approach to studio workflow, Thompson notes that the new technology allows producers to focus on telling great stories, while audio engineers focus on the creative sound design, mixing, and composition that takes the medium to a higher level.
Gimlet's new facility is a vast departure from podcasting's beginnings in the basements and garages around the US With the new studios open since August and the recent coup of their podcast Homecoming being adapted to a television series on Amazon Prime, Gimlet has hit the ground running on new productions. 'When you are able to work in a space like this, it's hard not to get excited about what you are creating,' Thompson says.