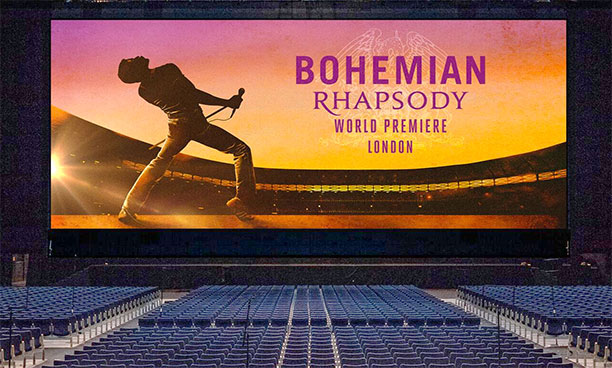 Giving Bohemian Rhapsody bio-pic its world premiere to 7,000 fans in the SSE Arena Wembley contained in inherent dilemma – Queen fans are well acquainted with the venue and the boom of its acoustics, and that was exactly the sound the producers needed for the live concert scenes.
As re-recording mixer for the soundtrack, Paul Massey went to considerable lengths using reverb and hints of slap-back to reproduce the authentic 1980s Queen concert experience. 'But of course, when staging such a premiere in a room like Wembley using a huge 7:1 audio system from Britannia Row Productions, the last thing you want is added reverb and slap-back,' says audio consultant, Colin Pink.
'I was asked by James MacFarlane, Senior Technical Manager at 20th Century Fox early in the summer to prepare for a premiere event sometime in the autumn,' explains Andy Peat Associates' Andy Peat.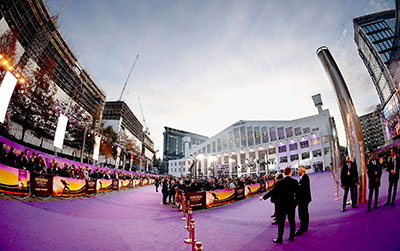 'My role was to look after all the interior technical infrastructure, working for and with Premier PR – headed up by Event Director Hilary Chadwick who, as the overall event producers oversee everything else, from the exterior red-carpet arrivals to the VIP seating plan within. I've used Britannia Row for these kinds of events many times before and they were also the preferred provider for 20th Century Fox.'
'But this was a first in terms of using Wembley so new considerations arose. We worked with projection specialists Motion Picture Solutions to define how large a screen could be used, obviously for an arena scale show everyone wanted it to be as large as possible while still fulfilling the roll of being of the highest technical quality.'
'At 28m by 11.7m the 1.4 Perlux gain screen was enormous,' he continues. 'Made by Harkness at its French facility – the only factory large enough to produce such a sprayed screen – it was rigged by Blackout, who also took care of the multiple PA points. It was slightly angled back from vertical by 3°, so the light reflected back directly onto the audience. The angle makes a big difference to how bright the audience perceives the image to be. The projection booth was built and installed by Steel the Scene; lined with 120mm thick acoustic panels to isolate any sound from the booth to the outside; the projector module also sat on an isolation island so the projectors themselves were unaffected by the vibrations of operators moving within the booth.'
'With regard to sound, Colin had flagged the reverb issue early. He has done several film premieres with 20th Century Fox as have Brit Row, and the team there like them both. 20th Century Fox made sure the technical conversations between Colin, Brit Row and the film makers sound team took place.'
Josh Lloyd from Brit Row managed system design: 'Our aim as defined by 20th Century Fox was to get the full 7:1 experience across the whole listening space. Using exclusively L-Acoustics loudspeakers, some of the design principals of their immersive L-Isa technology have parallels with what we were doing. We are gaining a lot of experience with L-Isa right now and have several shows and tours running it. But Wembley is a notoriously difficult venue sound wise and between Colin Pink and myself we determined several additional touches to ensure the correct experience. Some fundamentals such as Colin's insistence on drapes rigged across the back wall to reduce slap-back, some more nuanced.'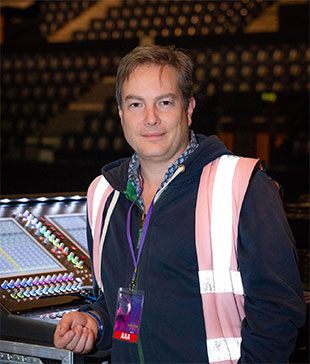 It was Pink's expertise that came to bear on the actual soundtrack: 'For me, the most significant thing was to persuade [film mixer] Paul Massey to make a different mix for the premiere,' Pink says. 'There is a great deal of live sound concert style music in the soundtrack and naturally they have added effects to create the atmospheric experience of arenas and stadia, including lots of reverb. I talked this through with Paul and he in turn convinced Fox. They went away and removed all those effects, no small undertaking on their part – recognising that the room with a full-on rock power PA system would re-apply those effects quite naturally.'
Lloyd's design comprised three hangs of K2 behind the screen LCR, with a central hang of KS28 subs as well. There are two hangs of Kara LR at the rear of the arena and to complete the surround system there were three flown hangs of Kiva down each side of the arena floor. 'Having three main hangs instead of two makes a big difference, because you distribute the energy you control the room better,' Pink says. 'With the precise calculated vertical control of the L-Acoustics system and using only a central flown cardioid array of flown subs, Josh's design meant no energy went into the roof; that allowed us to maximise vocal intelligibility. It all worked a treat, in fact, it was the best sound I've ever heard in there.'
'The dialogue had to be perfectly audible in the normal expectation of a film, and then the music has to be reproduced in a way that is entirely evocative of the Queen live show experience,' Peat agrees. 'Authenticity was the key, and Brit Row delivered.'
More: www.britanniarow.com