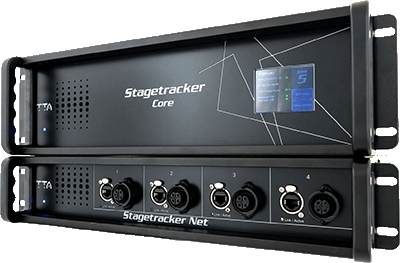 Astro Spatial Audio (ASA) has added performer tracking to its object-based 3D audio platform – Astro Spatial Tracking, based on its new Stagetracker II engine.
Norwegian company TTA worked with Astro Spatial Audio to create Stagetracker II, which is an upgraded version of the original for modern immersive applications. Astro Spatial Tracking uses discreet tags that can be concealed within a performer's costumer to broadcast to RadioEye RF receivers. The system is capable of following performers to an accuracy of 20mm. Up to 100 tagged performers can be tracked, and each individual tag can transmit up to 100 positions per second.
Combined with the Sara II Premium Rendering Engine using SpatialSound Wave (developed by the Fraunhofer Institute for Digital Media Technology IDMT), the system renders a three-dimensional audio environment, with variable room acoustics, within which users are free to place, move and manipulate audio objects – in real time or with pre-recorded arrangements – via an intuitive, browser-based GUI. With the addition of Astro Spatial Tracking, this extends to performers' movement.
The Stagetracker II and Sara II engines have been designed to complement one another in the rack, both with 2.8-inch front-panel touchscreens for operation and rugged construction for tour worthiness. The Sara II engine can accommodate up to 64 Madi or 128 Dante configurable network pathways, all of which are assignable to at least 32 audio objects. Stagetracker II communicates with Sara II via Open Sound Control (OSC), and can link to any Artnet-equipped lighting console.
'The original Stagetracker solution was the trusted choice of theatre productions all over the world, and we are very proud to introduce and represent the next-generation of this principal technology with Astro Spatial Tracking,' says ASA Director, Bjorn Van Munster. 'Together, our Astro Spatial technologies represent a bold new set of possibilities in live entertainment.
'The Stagetracker technology has evolved exponentially since we introduced the world's first tracking system for stages. A Stagetracker II RadioEye sensor now contains 60 antennas in a rugged design, supporting rough handling on the road and extremely precise positioning', adds TTA CEO John Skjelstad. 'Stages are crowded and full of scenery – a difficult environment. But our RF-based technology overcomes these challenges as our sensors operate without any need for line-of-sight coverage. Just as Astro Spatial Audio is defining object-based 3D audio, so Astro Spatial Tracking will change how immersive theatre is produced.'
The new system is due to commence shipping in Q3 2017.
More: www.astroaudio.eu