Working with Dynaudio's Pro division, Digital Audio Denmark has developed the ProMon licence to turn its AX32 and DX32 audio router/converters into monitor controllers. Pairing Dynaudio's expertise in loudspeaker monitoring systems with DAD's in audio routing and distribution, the two companies have announced high-end monitoring systems for music, film, post and broadcast production, as well as audio mastering.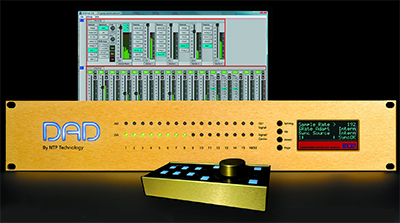 ProMon 2 is a complete audio monitor control solution that offers stand-alone monitor control functionality covering a wide range of functionality for music recording studios, location music recording, as well as post production environments of any size and type.
When adding the ProMon 2 licence, a wide range of additional monitoring control features are added to DADman software, enabling AX32/DX32 to operate as a powerful processor with full control of signal routing, control room speaker levels and monitor cues in any channel format including stereo, 5.1, 7.1.4, Dolby Atmos and other 3D and immersive audio formats. The control and configuration is managed by the new DADman 5.1 software, which also serves as a control center enabling devices compliant with Avid Eucon or Midi to operate the monitor functions.
Multiple monitors and cue outputs in various channel formats can be configured and controlled from one or more hardware MOM's (Monitor Operating Module) with individual cue mix functionality and dedicated monitor mixing, adjustable parameters include level, pan, cut, mute and even downmix from, for example, for a 7.1 multichannel format. All setting and configuration can be saved and recalled, allowing monitor configurations to be changed quickly and easily.
'I am very happy about this new partnership with another great, Danish audio company,' says Dynaudio Pro Product Manager, Sebastian Rodens. 'It's a perfect match, as many DAD and Dynaudio products actually share space in many pro audio facilities already, only in different parts of the monitoring signal chain. Once we had investigated the ProMon monitor solution in depth we instantly knew we had found the perfect monitor control centrepiece. It is quite simply the ideal companion to our monitors.'
'With the audio routing capabilities of AX32/DX32, it was a logical next step for us to look into expanding the functionality with a dedicated focus on monitor control,' adds Digital Audio Denmark Sales Director, Mikael Vest. 'The result was ProMon, which has been a great success, so when Dynaudio suggested a partnership to develop this specific area even further, we were immediately intrigued. Dynaudio has produced world-class monitors for audio professionals for years and working together with them on a monitor system where each company contribute with their particular fields of expertise that complement each other is extremely promising.'