RCF Audio has released RDNet software v4.0, adding a complete measurement suite, cloud storage, a new interface and improved performance to its management software suite for sound system engineers.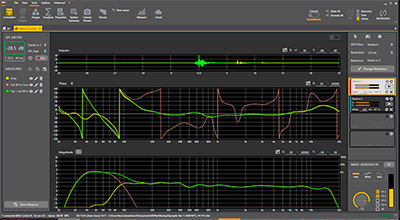 The first of these enancements, RDNet Measure is a powerful four-input dual-channel FFT audio analyser that is able to measure the magnitude, phase, RTA, coherence and impulse response of a loudspeaker system. Functions include spans from a delay finder, a multiple signal generator, and an integrated SPL meter/logger with calibration tools.
Cloud storage eliminates the need to carry a personal computer, as any computer can be used to connect to the internet and sign-in to an account to access a complete set of audio tools for an RCF audio system. Projects and measurements can also be saved and stored here.
Interface improvements to RDNet help make adjustments faster, with high-contrast colours, new icons and a more efficient workflow. Improved control for touchscreen devices renews the overall user experience.
RDNet is the RCF platform for the management of both live and installed systems. It brings control, routing and tuning all RCF compatible devices, including the latest additions such as the DMA matrix amplifiers, VSA column arrays and the new HD, HDL, and TT+ speakers to a single network.
More: www.rcf.it