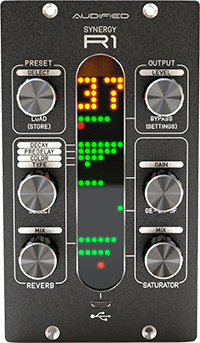 Audified has announced the Synergy R1, its first foray into hardware offering a 'remote-controlled' software/hardware hybrid digital (Reverb)/analogue (Saturator) processing module for the 500 series modular rack frame format.
Addressing the integration and repeatability of settings offered by plug-in processors over stand-alone hardware, the Synergy R1 offers control from a DAW. This supports automation and saving of session settings, courtesy of an easily accessible, front facia-positioned USB connection.
Designed and built in the Czech Republic, the hardware heart of the unit comprises two switchable sections. Reverb is digital, providing 24-bit A/D and D/A conversion, 32-bit floating-point DSP and true bypass switching. There are seven selectable reverb algorithms (simulating several different types of spatial acoustics), ranging from Room to Tunnel, with control over four front panel-accessible parameters – Decay, Predelay, Colour and Type. The Saturator section features three switchable saturation circuits with GE (Germanium), OA (OpAmp), and JF (J-FET) types, and gain control. Centrally positioned, a distinctive display assists with parameter editing via numeric and bar indication of values – LEDs for the edited parameter change colour to yellow and the value is visible in the numeric part of the display while other parameter LEDs remain green. When editing is complete, the display returns to the default view – numeric area displaying preset number and all value indicators in green or red if the parameter is switched off. Both sections include wet/dry mix controls, so Synergy R1 can be used as a full digital reverb or analogue saturator, and anything between.
All functions can be remotely controlled via the included Synergy R1 plug-in that can be used from within all major DAW host applications on Mac and PC (with AAX, AU, VST2 and VST3 support). Hardware parameters can be fully automated and are saved within projects. The control plug-in supports multi-instance usage, so several plug-ins could be assigned to one hardware unit. Also included is a standalone Synergy R1 control application, allowing for independent control of Synergy R1 via Mac or PC.
'I'm a reverb guy,' says composer/producer Boris Carloff, who designed the unit. 'I own 11 hardware reverb units in my studio, including an EMT 251, Bricasti M7 and AKG BX25 spring reverb – all classics – but I always dreamt of having something with the mellowness of old plate reverbs like the EMT 140. The analogue saturation of overdriving circuitry made their sound so lush, three-dimensional, and significant that I think I prefer them to any of the classic digital reverbs. On the flipside of the coin, I love the versatility of digital's different algorithms. And, of course, I also like simple DAW control. So something with the best of both the analogue and digital worlds, with all their wonderful possibilities combined, seemed like a good solution to me, which was the thinking behind Synergy R1.
'New high-end algorithms with real analogue saturation makes for an unbelievably lush- and nice-sounding reverb, but there is also an option to use clean digital reverb,' he adds. 'With real bypass of the digital reverb it is also possible to apply three different types of parallel analogue saturation to your mix.'
Synergy R1 is scheduled to start shipping in Q3 2017, with a projected MSRP of US$1,399.