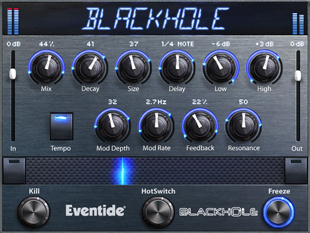 Eventide's plug-in lineup has been expanded with the release of the Blackhole Native reverb plug-in for AAX, AU or VST.
Following the introduction of Omnipressor, 2016 Stereo Room and H3000 Factory Ultra-Harmonizer Native plug-ins, Eventide has looked to its stompboxes for inspiration for the first time: 'People have been having a blast with Space's Blackhole so we thought we'd get it out from under foot and onto the desktop,' says, Eventide Vice President, Ray Maxwell.
Blackhole has evolved over a period of years. Its earliest incarnations appeared on the DSP4000 and H8000 studio processors. The plug-in Blackhole will be available in March 2012 from authorised Eventide plug-in dealers and through the Eventide website. Owners of the Anthology II HD/TDM bundle are eligible for a limited-period crossgrade, priced US$49.
More: www.eventide.com