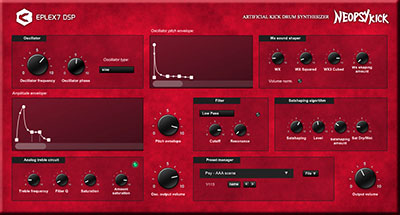 Eplex7 DSP has released the Neopsy kick artificial kick drum generator VST plug-in.
Aimed primarily at the psytrance, hitech, darkpsy, trance and techno genres, Neopsy reckons to advance the basic kick drum generator model with a sophisticated synthesiser with many novel functions.
The Neopsy oscillator offers in excess of 20 classic and unique waveforms/algorithms, along with multistage envelopes with precise control and exponential curves, and special sound shaping circuits and algorithms including wx sound shaper, sat shaping algorithm and analogue treble, as well as nine digital and analogue filter types.
Neopsy requires aWindows 32-bit/64-bit VST host, and is priced at €30.
More: https://eplex7.com/neopsy-kick-artificial-kick-drum-generator-vst-plugin