Fuse Audio Labs has announced VCS-1, a zero-latency DAW channel strip plug-in.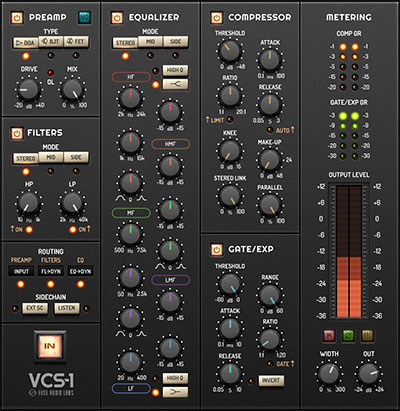 The processor's triple-topology preamp offers different styles of coloration, while wide-ranging high-pass and low-pass filters and a five-band parametric equaliser are also available alongside dynamics controlled by a compressor/limiter section and a highly-practical gate/expander stage, clearly visualised by a comprehensive gain reduction and level metering panel.
Processing sections are supported by flexible routing options, with the filters and equaliser each being operable in stereo or Mid/Side modes. The compressor's sidechain can make use of the filters, the equaliser, and external control signals.
An additional mix stage allows onboard parallel compression, and every single section of VCS-1 can be bypassed individually.
This processing power is rounded off by an ability to assign individual plug-in instances to virtual groups that share the same parameters all across the DAW host, saving time and effort.
'If ever there was a single "desert island" plug-in, VCS-1 is it,' says Fuse Audio Labs CEO, Reimund Dratwa. 'Anyone seeking a single plug-in to shape and process all their signals, groups, and buses in the most convenient way possible need not look any further than this powerful plug-in,'
VCS-1 is available at US$79 directly from the Fuse Audio Labs webpage, which includes in-depth information.