Wavesfactory has announced Quantum, an audio transient shaper plug-in that allows different processing to be applied independently to the attack and sustain part of a signal.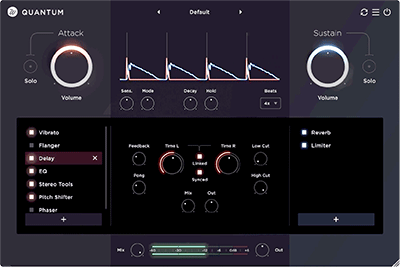 A transient shaper is an audio processor that can increase or reduce the transients or tonal parts of a signal. Quantum automatically detects and classifies the transients of a signal, separating the sound in attack and sustain paths, and add effects from a library of 16 onboard effects (Chorus, Compressor, Convolution, Delay, Enhancer, EQ, Flanger, Limiter, Lo-Fi, Phaser, Pitch Shifter, Reverb, Saturation, Stereo Tools. Tremolo, Vibrato) to each path separately, before joining them back together.
'Quantum uses a state-of-the-art transient shaper at its core,' the company says. 'We use that technology to automatically detect transients. By doing so, we get artifact-less, more natural results than other methods that can sound digital and full of artifacts.
'Quantum is not a one-trick-pony, it's quite the opposite. Think about it like a toolbox. It's a comprehensive set of tools that let you control, mangle, manipulate and completely transform your tracks.'
Key features:
Smart transient detection.
16 built in effects;.
Two-band Spectre included.
Resizable GUI.
Retina ready.
Built for the latest Apple M1 chip, and also Intel.
There is no use of iLok, challenge response needed for registering Quantum, simply the application of a serial number provided at the time of the purchase.
System requirements: macOS and Windows. 64-bit only. AAX, Audio Units, VST and VST3.