United Plugins has announced the SounDevice Digital Urban Puncher plug-in – a one-knob tool to add 'punch' to drum loops or anything that resembles a drum hit.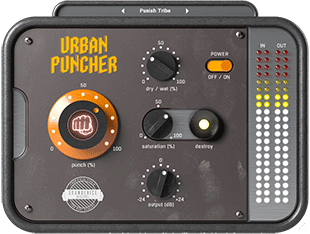 Inserting the plug-in into a DAW channel (before or after EQ or compression) allows its punch (%) to be setting and mixed with the original track using the dry/wet (%) control. As punch simultaneously controls several processes, it is described as 'an esoteric dynamic process with transients treatment and spectral shaping'.
Urban Puncher also provides a saturation (%) control that applies transformer/tube blended saturation emulation to give the 'punch' effect a different feel. Engaging the Destroy function triples the amount of saturation defined by the saturation control, resulting in a heavier form of distortion.
Elsewhere an output (dB) control determines the overall output volume of the Urban Puncher plug-in by ±24dB while input and output LED ladders aid judging processing proceedings.
SounDevice Digital's Urban Puncher is available at €59 as an AAX, AU, VST and VST3-compatible plug-in (using internal 64-bit audio processing).