Accusonus has added Voice Changer processing tool to its range of audio repair plug-ins and royalty-free audio libraries, offering users 'complete control over their own voice'.
Voice Changer is an all-in-one virtual sound designer for applying effects to voice, comprising three individually-customisable elements – Character, Environment and Effect.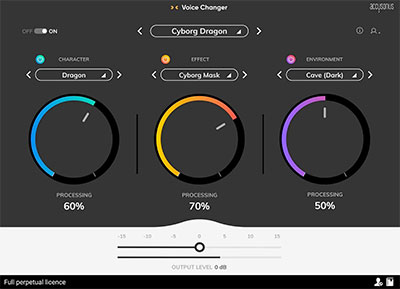 From trailer narrations to monsters, robots to anime protagonists, Character allows content to require varying characters, in turn requiring varying voices. With Environment, users can 'leap out of their studio, and lay out a fresh landscape beneath their voice. This may place a voice inside a stadium, in rainstorm, a cave, an airport or a bathroom. Effect enables a microphone to become 'anything', and is able to emulate walkie-talkie chatter, radio, vintage-style news broadcasts, space transmissions, and other sound settings.
These three aspects are combinable, to suit individual users' requirements. Accusonus has provided a wide range of presets, which can be used as a starting point. Alternatively, users can create their own voices from scratch, then save them as a custom setting through a simple UI, and enacted with sophisticated under-the-hood technology.
Voice Changer is available from the accusonus website as a standalone product. Subscribers of Accusonus' Creative and Post-Production Suites may access the tool as part of an existing subscription at no additional cost.
More: www.accusonus.com