Neold's Big Al plug-in is a dual-stage tube saturator emulation based on one-off analogue hardware harvesting novel circuitry and authentic NOS (New Old Stock) components from the 1930s.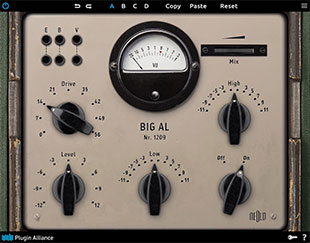 Big Al's frequency conditioning begins with the EF9 preamp stage, with a Low control implemented as a Baxandall filter that allows adjustment of saturation intensity by around 100Hz in (optional) combination with boosting or cutting the bass at the same time, and a High control offering additional EQ in front of the preamp tube whose its peaking filter boosts or cuts high-frequency content around 10kHz.
The user interface offers a jumper matrix, allowing access to Big Al's core circuitry – E (Emphasis Shift), B (Bass Compensator), and V (Voltage Sag) – allow complex changes to the distortion profile to be made on the fly by inserting or pulling out a few (virtual) plugs. An AL4 power pentode and its output transformer act as the finishing spice, driven hot by the preamp stage.
Neold Big Al is available via the Plugin Alliance as an AAX AudioSuite, AAX Native, AU, VST2 and VST3 effect plug-in for macOS 10.9 through 10.15 and Windows 7 through 10) at an MSRP of US$199.
More: www.plugin-alliance.com