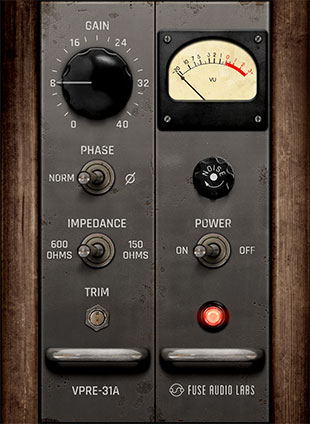 Fuse Audio Labs has announced its VPre-31A plug-in emulation of the characteristic curve and even harmonics, and custom UTC (United Transformer Corporation) input transformer of the classic 1960s RCA BA-31A germanium transistor preamp.
The VPre-31A 'grinds' when being pushed, providing a motor for anything rock and electro. Its significant low end is suited to guitars and bass, but comes properly into its own on kicks and snares. Wherever vocals could well have benefitted from a stronger proximity effect during recording, the VPre-31A quickly restores balance.
The VPRre-31A's virtual control is laid out for ease of use – engaging the fully-compensated drive (Gain), then choosing a preferred Impedance setting to fine-tune the frequency response, and Trimming the output level if appropriate quickly delivers results that can be given old school vibes through the Noise control.
'This one is really special,' says Fuse Audio Labs CEO, Reimund Dratwa. 'The 31A is, indeed, a rare piece, so chances are you won't come across it often. But if you do, it's an exciting experience for sure since this preamp rocks.'
See also:
Fuse Audio Labs Flywheel