Fuse Audio Labs has announced the Flywheel reel-to-reel recording plug-in for digital recording and mixing.
Flywheel claims an 'alternative approach' to tape emulation – rather than focusing on the specifics of one particular machine (as do the Waves J37 and Wavesfactory Echo Cat), this plug-in combines all the typical analogue imperfections such as saturation, hysteresis, high-frequency loss, and head bump in a single, clearly laid out interface. Its intention is to make adding the chracteristic warmth and presence of tape recordings to mixes and masters an easy and enjoyable process.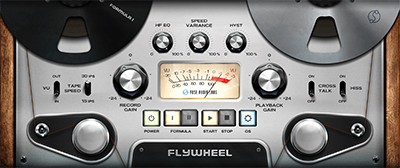 Control parameters include Record Gain, Tape Speed and Formula, whose results can then be tweaked with the Hyst (hysteresis) and HF EQ (high frequency equalisation) settings.
The magnetic recording experience would not be complete without different tape formulas, adjustable wow and flutter, as well as tape transport, all of which are included in Flywheel's feature set – and rrounded off by optional oversampling (OS) for improving overall audio quality, and Global Link for controlling all instances of the plug-in from a single interface.
'I got into the music production game when analogue recording technology slowly but surely started to get superseded by digital,' says Fuse Audio Labs CEO, Reimund Dratwa. 'Now, after more than two decades of evolution in digital perfection, super linear converters, and so on, we seem to understand what exactly it is our ears love about analogue, and Flywheel is an homage to exactly that.'
Flywheel is available at US$59 directly from the company's dedicated webpage, which includes in-depth information.