MeldaProduction has released the MDrumReplacer drum replacement plug-in.
Enabling replacement a live drummer's kit sounds a prerecorded sample, MDrumReplacer overcomes the problem of poorly-positioned microphones or an entire kit being unsuited to the production – a technique pioneered in the late 1970s by American engineer, inventor, and producer Roger Nichols while working with Steely Dan in the studio, and subsequently increasingly commonplace with the use of DAW recording. MDrumReplacer claims to pair 'the best drum-detecting algorithm on the market with perfectly-recorded multilayer samples'.
MDrumReplacer's drum-hit Detector finds the hits to be replaced in both single instrument recordings and mixed drum sessions with minimum user intervention. It uses analysis technology that examines the audio material to identify the most prominent frequencies, and sets the resonators accordingly, then users can audition the filtered signal (with the 'listen' feature) and adjust the filters to set them as precisely as possible. Ultimately, users can completely replace drum hits or get creatively effective by blending the original sound with the selected sample– enhancing kick drums with some added electronic flavour, for example.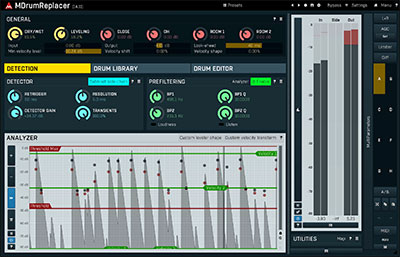 MDrumReplacer also includes MeldaProduction's MDrumLeveler plug-in dynamics processing tool, and so need not simply be used to replace 'bad hits' but also to process a drummer's performance by selectively correcting levels, with the Detector Gain then being applied to the event.
In use, the Detector is run and a sample selected that best fits the track chosen from MeldaProduction's multi-sample libraries (totalling over 80GB), including the recently-released Drum Empire 2020. Helpfully, MDrumReplacer uses the MDrummer's sound engine, enabling users to choose synthesised drums as well as multi-samples that respect the original drummer's performance and feel. Lending further flexibility, MDrumReplacer's presets are stored in a system database that can quickly be accessed from any project in any host, while the plug-in itself can automatically share users' presets and also allows them to download other users' presets from MeldaProduction's servers.
The interface allows users to set colour and style to personal perference for the freely-resizable plug-in. MDrumReplacer's feature set includes a Midi processor that listens to Midi controllers and keyboards to allow real-time control of any parameters. MDrumReplacer comes with a library of samples, multi-samples, rhythms, drum sets, loops and other resources that are distributed for free via MeldaProduction's MDrummer packs, including its latest Drum Empire 2020.
MeldaProduction's MDrumReplacer is available as an AAX, AU, VST and VST3supporting plug-in for Mac (64-bit only) and Windows (32-bit and 64-bit) at €129 (inc. VAT).