Heritage Audio has announced the 73JR II, advancing its 73JR single-slot 500 Series 73-style mic preamp module.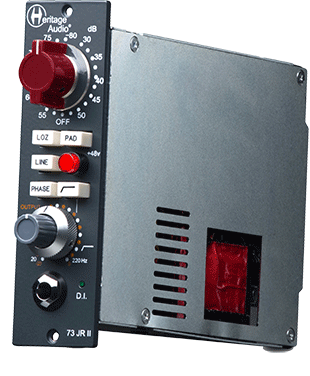 As a faithful three stage, all class-A 73-style preamp, the new module uses Styroflex and tantalum capacitors throughout in a three-gain stage circuit providing up to 80dB of gain with noise of -125dBu EIN (Equivalent Input Noise) over all the gain positions. It uses a true 24V onboard power supply for identical performance and distortion point as the original unit.
The output transformer is a custom Carnhill, manufactured for Heritage Audio by the British company in its St Ives factory in Cambridgeshire, while the input transformer is another custom Carnhill, this time manufactured in Oxfordshire – the same one found in Heritage Audio's higher-end 80 Series modules.
The 73JR II itself is an update to Heritage Audio's 73JR single-slot 500 Series true 73-style mic preamp module with added features – an all-discrete class-A hi-pass filter, sweepable from 20Hz to 220Hz; a Line Mode, allowing for reamping of prerecorded tracks; and the ability to automatically switch to DI mode when a quarter-inch TS cable is used.
The 73JR II is available now via RAD Distribution in the US with an MAP of US$949, and elsewhere via Heritage Audio's global dealer network with an SSP of €949 (excluding VAT).