Audified has announced Sphene Pro production processor for distorted bass guitar tones, offering proprietary tone shaping with pedal-like operation.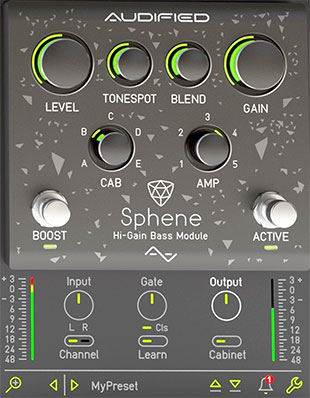 Aimed at metal sub-genres, such as Djent – itself an onomatopoeia representation of the high-gain, distorted, palm-muted, low-pitch guitar sound – Sphene Pro plug-in promises 'unique and cutting-edge distorted bass tone zones'. It gathers intuitive and variable bass tools in one virtual box, as an alternative to the numerous bass amp models and bass plug-ins available.
It achieves this with five pre-tuned Amp models with voicings tailored to accommodate various distortion aesthetics and playing styles; five Cab impulse models based on parallel IIR (Infinite Impulse Response) technology with minimal phase issues and low latency; a Tonespot control that draws on Audified's series of ToneSpot plug-ins, providing complex and efficient EQ shaping using only minimal controls; a Blend mix in the drive section of the pedal, with the dry signal being processed by the Tonespot and Cab circuitry models when the control is completely turned down; Boost to push the signal; and an expander-gate activated via the utility panel below the 'pedal' that includes a threshold Learn feature that can be engaged separately.