Joining its Seventh Heaven and Lustrous Plates reverb plug-ins, LiquidSonics has announced the Cinematic Rooms reverb, promising 'exquisite sounds and powerful tools' alongside full Dolby Atmos compatibility.
Cinematic Rooms is a reverb dedicated to the intense acoustic demands of surround room simulation, with advanced surround workflow tools suppoing the design of intricate acoustic spaces. Available in two editions, both support channel formats from stereo up to 7.1.6 for use with the latest Atmos bed workflows. With a selection of presets and intuitive control, Cinematic Rooms reckons to offer speed of operation, flexibility and high-quality audio.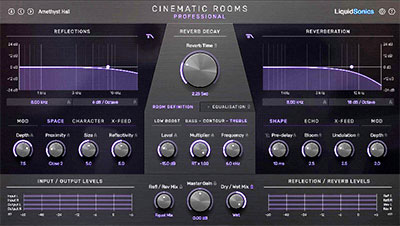 Cinematic Rooms comes in Professional and Standard editions. For demanding score mixing and postproduction workflows, the Professional edition combines modulated constant-density reverb technology with an interface tailored to modern surround production. The version also provides tools to precisely control the reverb within the surround field – parameters in the front, rear, side, centre or elevated planes can be deviated relative to the master preset.
The reverb tail in the sides and rears can be extended and filtered, and reflections in the front and side channels emphasised and widened. Tempo-synced pre-delay and echo can be applied to the rears and elevations
As all surround plane deviations track the master controls any changes to the master preset immediately propagate throughout the space, and are clearly visible by the surround editing indicators beneath every parameter.
Advanced control of crossfeed allows the amount and character of reverb propagation into the surround space to be accentuated or suppressed.
The Standard Edition is 'refined, simplified, but never acoustically compromised' for rapid workflows, lower budgets and simpler music mixing projects from stereo up to 7.1.6 bed. Sharing the same reverb and reflection engines as the professional edition, the standard edition of Cinematic Rooms creates a convincing ambience around sources by simulating sophisticated early auditory cues for a wide range of realistic environments.
Key features:
64-bit DAW.
Windows 7 and above.
OS-X/macOS 10.9 and above.
VST 2.4, VST3, Audio Unit and AAX Native plug-in formats.
200MB hard disk space required.
At least 8GB of main memory recommended.
Modern quad-core (or higher) processors recommended.
An iLok 2/3 dongle, iLok local authorisation or iLok Cloud is required. Two activations are included with each license (both must be associated with the same iLok account). Each Cinematic Rooms Professional edition activation license will also unlock the Cinematic Rooms standard edition plug-in.
More: www.liquidsonics.com