Among the most exclusive and powerful compressors ever built, Vintage King released the Shadow Hills Mastering Compressor Class A in 2012, limiting production to only 50 units. Its circuitry and operation have now been replicated in a plug-in available via the Plugin Alliance and enhanced by Brainworx with TMT. The Mastering Compressor Class A joins a growing line of Shadow Hills plug-ins.
The Mastering Compressor Class A VCA section is much punchier on this version, with Brainworx adding features to the emulation of the already modified hardware version. The Red version is punchier, faster, and more versatile than the Green.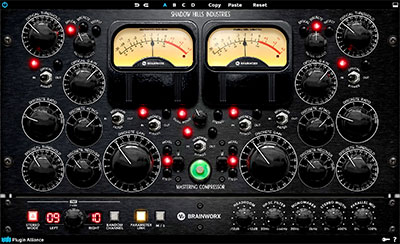 With the limited edition, Shadow Hills Industries used an updated class-A discrete compressor section using Lundahl input transformers, as well as hand-wiring each compressor with Mogami Cable – important factors when Brainworx Audio modelled one of these limited units, as it gave the limited edition version a different character to the original.
Tested against the Shadow Hills Industries Mastering Compressor, the Class A offers a smoother compression sound, punchier VCA, a more pronounced sonic dimension, and overall larger size and perceived depth. Another difference between the Shadow Hills Industries Mastering Compressor and the Class A version is that with the gain set to identical values on both units the Class A version clocks in around 1-3dB higher, matching the emulated hardware, and, as a result, delivers a thicker and richer tone to whatever is running through it.
For this limited edition, Brainworx included its retractable Extra Unit, adding Brainworx's TMT (patent-pending, Tolerance Modeling Technology), M/S processing, Mono-Maker, Stereo Width, Parallel Mix, Sidechain Filter, continuously variable 12dB/ctave high-pass filter, and a Headroom parameter. Visually, this version can also be distinguished by red LEDs on the front panel versus the green ones found on the Shadow Hills Mastering Compressor: Green for the Drum Buss, Red for the Master.
The Shadow Hills Mastering Compressor Class A is available as an AAX AudioSuite, AAX DSP, AAX Native, A-, VST2 and VST3-supporting plug-in for MacOS 10.9 through 10.14 and Windows 7-10.