With the dawn of 2019, API has announced the release of two limited edition 50th Anniversary modules – the Anniversary Edition 550A and Anniversary Edition 312.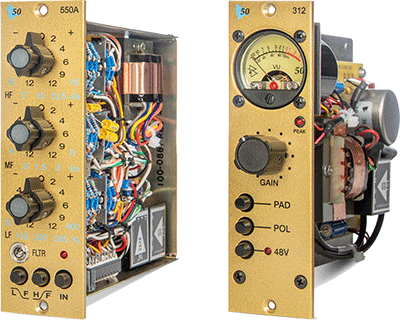 The API 550A 50th Anniversary Edition is a discrete three-band EQ and an exacting reproduction of the original Saul Walker design from the early 1970s. For nearly 50 years, the 550A has played a major role in the recording industry. These special limited edition units are painstakingly hand assembled and wired, and feature an exact reproduction of Walker's original printed circuit board. Each unit is a true work of art, inside and out, and represents a piece of recording history. Every Anniversary Edition 550A carries an individual serial number denoting its status as part of a limited run of 50 units.
The API 312 50th Anniversary Edition is a faithful reproduction of the original 312 microphone preamplifier used in API consoles from the 1970s and still highly sought after. Packaged into a modern 500 Series module, the 312 is one of API's most famous mic preamps and is the basis of the highly successful 3124 series. Starting from an exact reproduction of Saul Walker's original 312 printed circuit board, API engineered the 312's classic design true to the original, including the hand-wired gain pot and switches. Each unit carries an individual serial number noting the limited run of 150 units.
More: www.apiaudio.com