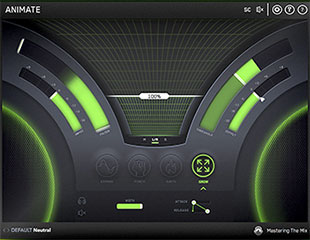 Focusrite has announced a new deal for the Plug-in Collectivecustomer community - the latest of their partnerships giving their customers access to some of the best plug-ins on the market. From 10 January through to 7 March, Focusrite have teamed up with Mastering the Mix to give Plug-in Collective members free access to Grow and a free six-month license to the trouble-shooting tool Levels.
Grow is a dynamic module within the Animate plug-in, which enables the width of selected frequencies to be increased using a psychoacoustic precedence effect. Animate uses a sophisticated algorithm to create an all-pass filter to dramatically reduce phase cancellation resulting from filtering, injecting life into mixes.
Levels is a metering plug-in for mastering, monitoring the elements of a mix and flagging any technical issues. With an intuitive interface and presets for CD, Club, Streaming, Youtube and more, Levels helps quickly diagnose problems and gives practical advice on how to fix them.
All Focusrite customers have to do to take advantage of this offer is to make sure their hardware is registered; details of the deal then lands in their account.
More: www.focusrite.com