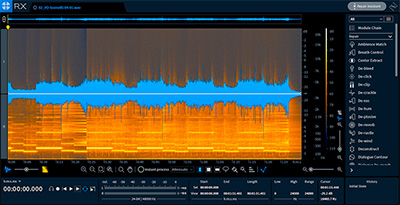 iZotope has released RX 7, the latest of its audio repair plug-ins for music and postproduction.
RX 7's Repair Assistant analyses audio automatically and provides three solutions to correct common problems. Together with Music Rebalance, which enables adjustment of the balance of vocals, bass, percussion and other instruments within a mix, and Variable Time and Variable Pitch modules, allowing duration and pitch to be altered independently, RX 7 users can quickly and edit one channel, multiple channels, or all channels of their mix, with support for channel configurations up to 7.1.2.
Dialogue Contour allows users to combine multiple takes/clips and adjust their intonation independently, helping improve the performance of a line or creating a new performance entirely.
RX 7 is available in AAX (64-bit), Audiosuite DPM, Audio Unit (32-bit and 64-bit), RTAS (32-bit), VST 2 (32-bit and 64-bit), and VST 3 (32-bit and 64-bit) formats. It is also available as part of a suite of plug-ins, including Music Rebalance, Breath Control, Dialogue Isolate and Derustle to help speed up workflows.
More: www.izotope.com