Sound Radix has announced Powair v1.1, bringing new features and improvements to its design two-stage leveller/compressor plug-in. Designed to control dynamics and bring a sense of power to vocals, instruments and mixes Powair also receives a completely rewritten user manual.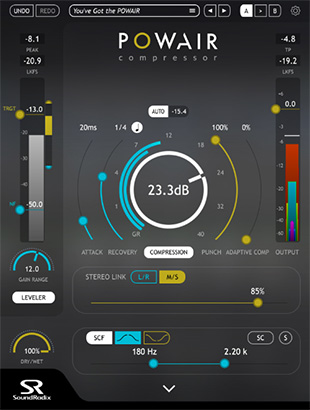 Among the features and improvements in v1.1 are further peak clipping options, a user-definable meter peak hold, UI scaling (75% – 200%) and improved filter phase response, as well as better overall performance and improvements to the user interface. Limiting is now based on true-peak, with Presets names being stored and recalled. Additionally, Pro Tools (AAX), Studio One 3.x (VST3) now support gain reduction meter, while Pro Tools (AAX) supports automation key modifiers.
Fixes:
A/B states were not properly stored and recalled.
Meters/Leveler did not clear state when playing after stopping.
VST denormalisation-related performance issues.
Possible crash on Digital Performer (VST).
Input meter could show noise-floor instead of silence.
Various cosmetic UI inconsistencies.
SCF – possible crash when LF was set to highest frequency.
SCF – Solo didn't work when the compressor was off.
M/S mode was processed in leveller stage.
Fixes/improvements to auto gain compensation and side-chain compression.
Switching between Mono/Stereo instance on Logic X could lead to a crash.
AAX with side-chain could produce silence when rendered offline. (Commit/
Freeze/Bounce Offline).
VST3 might not work with Direct Offline Processing.
In some settings, dry signal could be not dry.
Possible crash when inputting out-of-range values.
Fixes/improvements to Windows installer.
The update is free to owners, and can be downloaded from their Sound Radix account.
More: www.soundradix.com