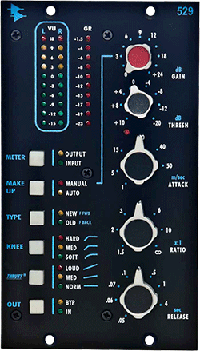 API has announced the 529 Stereo Compressor, the latest addition to its line of 500 series modules.
The 529 Stereo Compressor follows the 2500, taking many of its features and controls from API's famous stereo compressor and presenting them in the first dual-slot 500 series module from API. Designed to deliver a wide range of compression options, the 529 delivers warmth, clarity and punch, whether used for subtle adjustments or heavy compression effects.
Using API's discrete op-amps and transformer technology, the 529 Stereo Compressor features API's Thrust circuitry for a punchy low end, along with an Old/New switch that offers the choice between classic and modern compression characteristics – Old for vintage-style feedback compression and New for today's more common feed-forward compression. The Auto-makeup Gain button allows for ratio and threshold adjustment without affecting the output level.
The 529 Stereo Compressor has an introductory price of $2,195 and units will be available for shipping in mid-February.
More: www.APIaudio.com