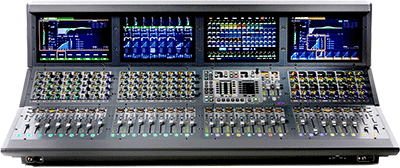 Avid has announced Venue 5.5 software update for the Venue S6L live sound system, adding support for the Avid Stage 16 Remote I/O box for S6L and new control surface capabilities.
Previously available for use solely with Venue S3L-X systems, the Stage 16 Remote I/O box is now supported for use with Venue S6L systems running Avid Venue 5.5. This enables engineers to use Stage 16 Remote I/O boxes in addition to the Stage 64 rack to deliver greater networked I/O distribution flexibility. Each Stage 16 box provides 16 analogue inputs, eight analogue outputs, and four digital outputs, making it an ideal compact solution for expanding or distributing I/O across any performance space. Up to four Stage 16s and two Stage 64s can be used simultaneously to support up to 192 analogue inputs. Additionally, Venue 5.5 adds a Meters view and System and Troubleshooting buttons on the Master Touch Screen for all three control surface configurations. This feature provides users with a continuous view of channel metering across all S6L console screens as well as quick access to run system tests and more, directly from the control surface.
Key features:
· Expanded I/O of Avid Venue S6L with the compact Avid Stage 16 Remote I/O box.
· Connect up to four Stage 16 devices to S6L in addition to two Stage 64 I/O racks.
· Avid I/O sharing with True Gain functionality with Stage 16 in S6LSupport Stage 16 at 96kHz with S6L and integrate it into the network infrastructure of S6L, allowing Stage 16 and Stage 64 to exist on the same AVB ring.
· Improved metering and faster key system commands from the Master Touch Screen (MTS).
· Use Meters view as well as System and Troubleshooting buttons on the MTS for all three control surface configurations.
Avid Venue 5.5 Software works with Avid Venue S6L systems exclusively and will be made available to download free to all Avid Venue S6L customers with a valid Avid Advantage Elite Live support contract.
More: www.avid.com