Avid has released Pro Tools 12.8, adding native Dolby Atmos mixing, and support for Avid Nexis for Pro Tools HD and Avid Cloud Collaboration for Pro Tools First.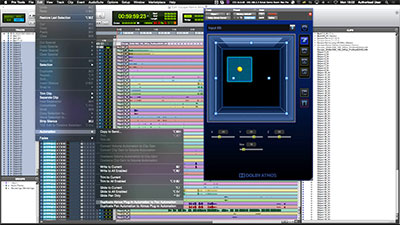 Native mixing in Dolby Atmos eliminates the need for additional software plug-ins and complex routing. Through a partnership with Dolby, Pro Tools HD now features a suite of Dolby Atmos workflows enabling 'more fluid' working with the object-based audio format.
New features include Dolby Atmos panning, support for 7.1.2 stems, Avid pro mixing control surface integration, advanced automation with the Dolby Rendering & Mastering Unit (RMU).
Support for Avid Nexus shared storage eliminates the necessity to move files between systems, resulting in faster turnarounds and increased productivity.

Updates to Pro Tools First 'freemium' audio workstation based on the industry-standard audio production tools, now includes Avid Cloud Collaboration, to work on music and soundtracks over the internet, giving users the freedom to record, edit, and mix projects with others around the world.
Integration with Soundbase, enables users to search for sounds and instantly hear how they fit into any track or project. A 500MB loop library created by industry-leading producers and sound designers also assists in the production of professional-quality music. Track Freeze allows users to quckly freeze or unfreeze all plug-ins on a track (or just up to a certain insert) to free processing power.
More: www.avid.com