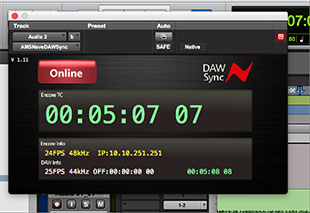 AMS Neve has released the DAWSync plug-in for its DFC3D mixing console, providing an 'elegant and simple' means of adding machine control integration with Pro Tools.
The plug-in provides instant lock from the Pro Tools timeline to the DFC3D automation so that audio, video and console automation roll together without any delay, and without complicated synchronisation set-up. DAWSync also provides a virtual 9-pin interface for transport commands, track arming, and PEC/Direct switching from the DFC3D to the DAW.
The DAWSync plug-in connects to the DFC3D via Ethernet, and is already currently in use on major mix stages in the US.
DAWSync is available to all DFC3D users on request.
More: www.ams-neve.com