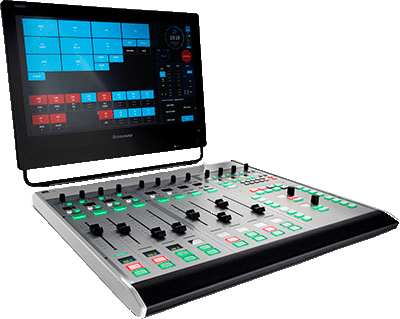 Lawo's new ruby mixing desk addresses modern radio studio operation, enabling operators to mix and route audio using the same multi-touch onscreen environment used by other studio tools.
Lawo calls the result 'a more natural and efficient way of working, with the additional huge benefit of reducing studio monitor clutter'. The ruby surface blends physical faders and switches with multi-touch controls which can exist alongside other studio applications such as playout systems, phone queues and codecs – enabling operators to adjust settings quickly and easily without diverting their focus.
'In the modern radio studio, talent is glued to their computer screens,' says Stephan Türkay, Lawo Senior Product Manager, Radio OnAir. 'And for good reason – off-the-shelf PCs have become so powerful that stations are using them to do almost everything in the radio studio. This is an example of how advancements in IT are revolutionising radio. More recently, touchscreen smartphones and tablets have become an essential part of daily life. We at Lawo saw touchscreens as another opportunity to revolutionise radio. And that's why we call ruby the Visual Radio Console.
'With ruby, operators can work the way they like – with touchscreen displays or physical controls. The choice is completely up to them,' he adds. 'We provide a wide range of preconfigured screens, or clients can craft their own custom screens with our sophisticated GUI builder.'
According to Türkay, ruby is also a true AES67 radio console. 'AES67 is a big deal at Lawo. Not only were we heavily involved with the development and ratification of the standard, every Lawo AoIP product has been fully AES67-compliant from day one.'
In keeping with this constant AoIP innovation, ruby introduces full dual-network redundancy, with instantaneous recovery from any network fault. Both AES67 and high-density Madi interfaces are standard. Eight expansion slots permit addition of mic, line, AES3 and studio I/O, suiting ruby to stations wanting to migrate to AoIP without sacrificing legacy infrastructure.
Lawo ruby is available in configurations from four to 60 faders, with a variety of desktop or flush-mount frame styles.
More: www.lawo.com