PreSonus' 24-channel StudioLive 24 digital console/recorder joins the company's third-generation StudioLive Series III line, alongside the 16-channel StudioLive 16 and 32-channel StudioLive 32.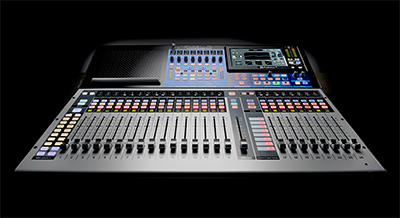 The new console features 24 physical input channels with touch-sensitive, motorised faders and recallable XMax class-A preamps. The main LR bus also has a touch-sensitive, motorised fader. Internally, the StudioLive 24 is identical to the larger-framed StudioLive 32; all 32 internal channels can be addressed digitally via USB and AVB.
PreSonus Capture multitrack recording software with virtual soundcheck is installed directly into the StudioLive 24 console, recording up to 34 tracks to the console's onboard SD recorder. Finished Capture sessions can be opened in Studio One Artist for Mac and Windows (included), and the mix scene will transfer to the Studio One session, including fader levels and Fat Channel settings.
StudioLive 24's Fat Channel processing section is a plug-in-style workflow that features vintage-style EQ and compression options on every channel, from classic tube limiters to passive EQs. In addition to channel processing, you get six-band, fully parametric EQ on all mix outputs. User layers for the channel faders allows placement of any channel, DCA master, or bus fader anywhere you want. The Fat Channel layout and be customised, putting the parameters in preferred positions, and there are several workflow options to further personalise mixing.
Scenes can also be extensively customised, including a Scene Safe feature that prevents a scene change from altering the settings on designated 'safe' channels. Similarly, Fat Channel presets have become like scenes for individual channels, not only saving input and Fat Channel settings but also aux send and bus assignments.
In addition to four fixed subgroups, StudioLive 24 offers 16 FlexMixes that can be individually designated as aux, subgroup or matrix mixes, for a total of 20 mix buses (excluding the main mix, effects mixes and solo buses). Twenty-four DCAs enable flexible control of groups of channels.
An AVB Ethernet connection enables networking of compatible computers and streaming of up to 55 channels of audio to and from a Mac or Windows PC. (AVB networked solutions, including stageboxes, personal monitor mixers, and third-party AVB interoperabilit, are coming later in 2017.) There is also 40x40 recording via USB 2.0 for a choice of computer recording methods. A separate 1Gb Ethernet port can connect to a wireless router or directly to a computer for remote control of virtually all features via a wired or wireless connection.
PreSonus StudioLive Series III mixers are supported by a suite of software, enabling mixing wirelessly or over a wired network from anywhere using free UC Surface touch-control software for Mac, Windows and iPad. A second, third, or even fourth screen can also be used to improve fast workflow. Remote control the mixer's recallable XMax preamps and Fat Channel processing with Studio One Artist (included) for low-latency recording with effects.
Automated virtual soundchecks and show recordings can be made with Capture for Mac and Windows (included) – and recording Studio One is possible with any software that supports ASIO or Core Audio. Musicians can control monitor mixes onstage with free QMix-UC for iPhone, iPod touch and Android devices. Studio Magic Plug-in Suite for Mac and Windows, is included in the package.
StudioLive 24 is expected to be available in the second quarter of 2017, with an MAP of US$2,499.95.
More: www.presonus.com