Expanding its System T broadcast audio equipment network – encompassing objects that include processing engines, traditional audio I/O devices and control interfaces (both mixing console surfaces and PC based control via T-Solsa) – Solid State Logic has announced a new Tempest Control Rack and Tempest T25 Engine.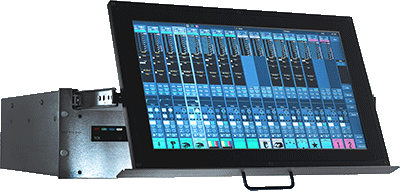 The Tempest Control Rack (TCR) consists of a 3U-high PC enclosure with an optional retractable 15.6-inch touchscreen. TCR runs the complete System T control software and so acts as a stand-alone control interface for a System T installation. The custom screen mounting system enables the screen to be used at a wide range of angles, allowing the unit to be mounted in a traditional 19" rack or in angled studio furniture. TCR features dual PSU, Primary and Secondary OCP Network Connections, Primary and Secondary Dante Network connections, Studio Integration Network connections (for production automation systems) and SSL Network connectivity for other System T control interfaces or T-Solsa control from any PC on the network. There are HDMI and DVI-D video outputs, plus front and rear panel USB connections for Keyboard, Mouse and USB storage devices.
The Tempest Processor Engine is the heart of System T and uses SSL's Optimal Core Processing for real-time, 64-bit CPU-based, floating-point mixing and processing. The release of the new T25 Engine means the Tempest processing engine is available in two sizes – the T80 (800 paths) and the T25 (256 paths). The introduction of the T25 provides a cost-effective, lower-capacity processing option for use with both TCR and a System T Surface. Paths and processing can be dynamically allocated in real time without interrupting audio. With up to 3072 inputs and 3072 Network outputs per engine, System T can handle any large-scale production. Tempest engines can be deployed as mirrored redundant pairs if required.
More: www.solidstatelogic.com