The latest addition to Cadac's CDC digital console line-up, the CDC seven builds on the success of the medium-format CDC six, offering its power and operational simplicity with the enhanced production capabilities of an expanded dual 23.5 inch, 16:9 hi-ghdefinition touchscreen, 36-fader control surface.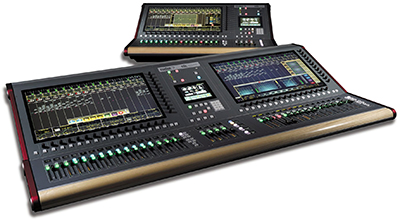 The CDC seven retains the characteristics of the CDC six, scaling up operational flexibility by doubling up on both the large-format LCD touchscreen and associated encoders, as well as the physical fader count, andexpanding the number of inputs to 96. The new console retains the CDC six's 56 buses, with 54 of them now being configurable with the latest v4.0 software update.
The CDC seven's dual 23.5-inch LCD touchscreens display the swipe-able user interface. Encoders immediately to the right of and below both screens further encourage the instinctive use of gesture – touch and swipe – operation in navigating and operating the console. The major advantage of the dual screens is the ability to simultaneously display and control multiple tasks – the VCAs can be displayed on one screen while the inputs to the VCAs are displayed on the other. The faders and encoders follow the GUI displayed on the individual screens, resulting in increases in the speed and flexibility of the workflow. An additional centrally mounted 6.5-inch LCD touchscreen provides access for system control.
The CDC seven's feature set includes Cadac's Monitor Mode with Mix Focus, as well as the ability to create custom fader layers. All 36 motorised faders on the CDC seven feature stereo metering and a full-colour user definable OLED display.
Like all CDC consoles, the CDC seven employs Cadac's MegaComms digital audio network, designed to meet the requirements of the most challenging production and system installation applications. Cadac's CDC audio protocol allows total through-system propagation delay from inputs on stage to outputs, including all console processing and AD/DA conversions, in 37 samples (96kHz), or just under 400μs; making it the audio industry's lowest latency protocol. The console features 16 onboard stereo effect,s and is preconfigured with an integrated 64 x 64 Waves interface; enabling direct connection to a Waves MultiRack SoundGrid server with access to the vast Waves' library of plug-ins (license dependent), as well as multitrack recording directly to a laptop.
See also:
More: www.cadac-sound.com