SSL has release a new δelta-control 24 plug-in and an Audio Units (AU) version of the δelta-control Single Fader plug-in for δelta-enabled AWS consoles. This update brings full δelta-control compatibility for Logic users.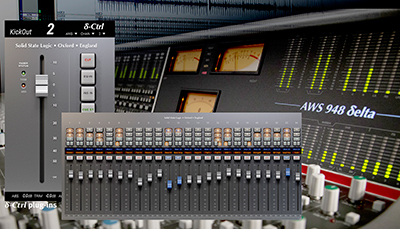 δelta-control is SSL's plug-in family that allows analogue console automation to be recorded, edited and replayed via the DAW. δelta-control automation data is cross-compatible, meaning you can start mixing on one SSL δelta-enabled console and continue on another. Used in conjunction with the console's Auto menu to access classic SSL automation functions such as Join and Revise, δelta-control offers a streamlined workflow suitable for the pressures and high-turnaround demands of the modern studio.
The δelta-control 24 plug-in allows AWS channel features to be automated from one plug-in including: Fader levels (Absolute and Trim), Cuts and Insert Points for both channel and monitor paths as well as EQ, Cue, and FX switches. The AU Single Fader version of the plug-in allows users to access Record and Mix Bus automation.
Both plug-ins will be free to download and use with δelta-enabled AWS consoles. The plug-ins will included in the AWS software download pack.
AWS consoles not running δelta can be upgraded with the relevant upgrade kit. δelta Control plug-ins are available in all major DAW formats including AAX, AU, and VST3.
More: www.solidstatelogic.com