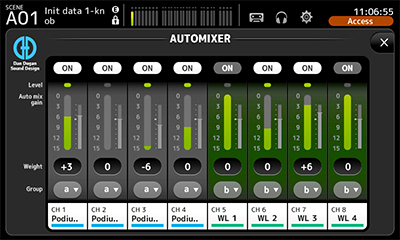 The latest firmware update for Yamaha's TF series of digital mixers brings Dan Dugan automixing to a digital mixer at a new price point.
The TF series offers straightforward operation with touchpanel-based TouchFlow Operation interface, making operation of the TF series simple for beginners as well as established users, while offering professional mixing capabilities and sound. Developed in co-operation with Dan Dugan Sound Design, the automatic microphone mixing technology in v3.5 firmware significantly widens the application of TF series mixers in conferences, corporate events, houses of worship and other multi-microphone situations.
Dugan automixing can be applied to up to eight channels on any of the TF series mixers, including TF-Rack, automatically raising the gain of active microphone inputs, lowering the gain of inactive ones and adjusting each to create a consistent overall mix level. This eliminates the need for complex fader operation during presentations where multiple microphones are used, or at panel discussions where an even larger number of microphones may be required. The Dugan automatic mixing algorithm also maintains a safe feedback margin, ensuring sound of high-quality and clarity at all times.
'The addition of the Dugan Speech System automixer to the TF series gives these mixers a strong advantage in "talking heads" applications, such as conferences, wireless mics in theatres, boardrooms, civic meeting rooms, political debates, TV news, sports panels, game shows, reality shows, houses of worship, and teleconferencing,' says Dan Dugan Sound Design CEO, Dan Duggan.
The TF series has grown significantly with every firmware upgrade. Version 2.5 added a matrix and output delays, v3.0 provided improved security features and v3.1 implemented AES67 support. Now, with v3.5, we are delighted to offer Dugan automixing – a feature which elevates the TF series to a whole new level of versatility and performance,' adds Yamaha Pro Audio Business Unit Director, Yoshi Tsugawa.
The new firmware also provides a number of other incremental improvements. It is scheduled for release during Q2 2017, and will be available as a free downloadable upgrade to existing TF owners.
More: www.yamahaproaudio.com