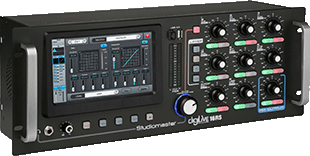 Taking the concept behind its digiLive 16 compact mixer, Studiomaster has announced the digiLive 16RS and self-powered digiLive 16P-600. Using simultaneous integrated touchscreen and iPad operation, the new units adopt a rackmount 'black-box' form-factor.
With all of the features and flexibility of the digiLive 16 compact mixing console – and sharing the same 7-inch touchscreen and remote iOS app iPad operation – the digiLive 16RS and digiLive 16P-600 are aimed at A/V installations, small performance venues, music bars and houses of worship, but can also serve as a dedicated monitor mixing system, especially when used with the iPad App.
The mixers share the same 16-input, 16-bus, 8-effect bus format of the digiLivE 16. The 16RS features two LR master outputs on XLR connectors and six configurable 'smart' outputs, while the 16P-600 has four 'smart' XLR outputs and 4 x 150W RMS (4Ω) class-D power amplifiers. The 16 inputs are configured as 12 mic/line and two stereo on both models, and both also sport digital SPDIF I/O and AES-EBU output and USB interface.
With 40-bit floating-point SHARC processing, 192kHz, 24-bit AD/DA, the 16RS and 16P-600 offer high-quality audio at new budget level. All settings including faders (uniquely at this price point) are fully recallable. Touchscreen and iPad operation (with the iOS app) is exceptionally straightforward, making these mixers suited to applications and installations where no dedicated operator is present.
'The digiLive 16RS and 16P-600 offer very high-end performance at the competitive end of the install market, in a plug-and-play package that makes setting up and using all of that power extremely user friendly,' says General Manager Patrick Almond. 'We have come relatively late to market with digital product offerings but we have spent considerable development time, both in configuring these products precisely for specific applications and market sectors, and in exploiting latest processing technologies when they become available at a price point that allows us to offer these extended specifications, features and operational capabilities, previously unavailable to more budget sensitive market sectors.'
More: www.studiomaster.com