To coincide with the launch of its dLive C Class mixing desk, Allen & Heath has announced a major firmware update for all dLive mixers, enhancing the functionality and processing capabilities of the system.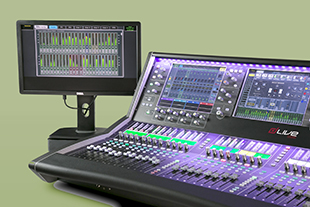 New features in v1.4 include advanced dynamic processing with the Dyn8 plug-in providing four bands of dynamic EQ and four bands of multiband compression, DCA spills, quick Virtual Soundcheck mode, plus the Dimension Chorus Rack FX unit. There are also additions to the array of DEEP embedded plug-ins, comprising the Peak Compressor/Limiter 76 emulation of a classic compressor, plus the Multi-Stage Ducking Processor. Also new in v1.4 is the option to display a third, independent view on an external monitor screen.
'We have been working with A&H modelling classics from Sawmills stock, measuring differences and relevance for live use,' says John Cornfield, engineer at Sawmills (Muse, Supergrass, The Verve, Oasis). 'I think the results are astounding – 16VU is an excellent rendition, Opto captures both the rough and smooth of optical compression, and 76 peak limiter is a faithful model of two particularly pleasant units, one old, one new.'
Further to the firmware update, owners of dLive S Class systems will benefit from a free warranty extension to three years. In support of the dLive Rental Network, a community of almost 200 professional PA companies stocking dLive S Class Systems around the world, Allen & Heath has also introduced a Fly&Hire service, through which the company will help facilitate local hire of the system wherever in the world an engineer, band or production company might be travelling.
Version 1.4 is available to download from the A&H website.
More: www.allen-heath.com