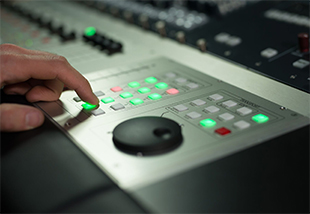 At its introduction in 2014, Rupert Neve Designs' proprietary SwiftMix automation system brought high-quality VCA-less moving fader automation to the company's flagship 5088 console. Now, the release of the SwiftMix MC5 Master Control module brings advanced transport, editing and grouping functionality, with all of the most popular DAWs to the engineer's fingertips. Providing seamless control from the mix position, the MC5 allows for easy auditioning, decisive editing, and quick recall.
'The addition of the MC5 Master Controller will add powerful capabilities to the 5088 console, providing a control set familiar to the Pro Tools user, and allowing for a streamlined workflow through a truly world class signal path,' says RND General Manager Josh Thomas.
The SwiftMix MC5 Master Control is now available for integration with 5088 consoles that include the SwiftMix moving fader automation system. Pricing is quoted upon request per application.
More: http://rupertneve.com