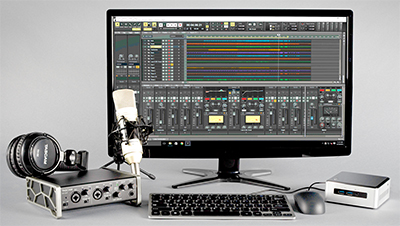 Tascam's Track Factory is a complete audio production system designed for music making 'rather than being simply a computer bundle'.
Track Factory is built around a powerful Intel NUC mini-computer that has been preconfigured for music production, and includes everything needed to plug in and begin recording. Built with hand-selected hardware components and equipped with a 2.7GHz Intel Core i5-5250U processor with 3MB of cache, 8GB of RAM, and a 256GB M.2 solid-state drive – desktop PC power in a, 4x4-inch form factor. Connections include four USB 3.0 ports, a Mini Display Port 1.2, Mini-HDMI 1.4a port, gigabit Ethernet, Wi-Fi and Bluetooth 4.2. It runs a version of Microsoft Windows 10 Home Edition that has been optimised by PC Audio Labs for digital multitrack recording and editing. A USB mouse and keyboard are included.
Cakewalk's Sonar Professional DAW comes preinstalled and configured for the bundle's Tascam US-2x2 USB 2.0 audio/Midi interface. Sonar Professional comes with a wealth professional effects, loops, and virtual instruments, including the ProChannel Console Strip and Melodyne Essential with ARA integration.
Tascam's US-2x2 interface features two combo mic/line/instrument inputs with high-end Ultra-HDDA microphone preamps. Ioffers two balanced TRS line outputs, records at up to 96kHz, 24-bit audio resolution, and offers zero-latency monitoring.
A Tascam TM-80 medium-diaphragm cardioid condenser microphone and USB cable are included, as are a pair of Tascam TH-02 closed-back headphones.
Tascam supplements the preconfigured Track Factory system with tutorial videos and a Quick Start Guide. The Track Factory bundle is available for a MAP/street price of US$1,299.99.
More: www.tascam.com