High-end plug-in specialist Softube has released Console 1 Mk.II, an upgraded version of its hardware/software mixing system – claiming an 'enormous leap forward from its predecessor', with support for selected UAD Powered Plug-ins from Universal Audio and a substantial, permanent price drop.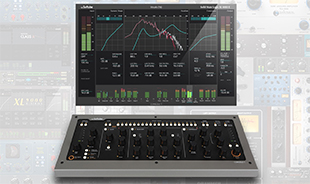 Released in 2014, Softube Console 1 offered tightly integrated hardware and software, including the emulation of a Solid State Logic SL 4000 E console. Console 1 Mk-II addresses user requests.
First, the new software – also available to owners of the first-generation Console 1 – makes it possible to use Console 1 with selected UAD Powered Plug-Ins from Universal Audio. There are now more than 60 plug-ins that can be used from within the Console 1 system, including those on units from Chandler Limited, Fairchild, Teletronix, Tube-Tech and Abbey Road Studios. The plug-ins are pre-mapped and selectable from the Console 1 software, so no Midi mapping is necessary.
These changes are in addition to a recent software update, adding DAW control functions for Presonus Studio One and Cakewalk Sonar.
'Softube and Universal Audio share a lot of core values, like the importance of sound quality, ease-of-use and a love for good music,' says Greg Westall, VP of Sales & Marketing for Universal Audio. 'Seeing that we are long-time partners, and that Console 1 is a super intuitive control surface, it all just makes so much sense.'
According to Softube, the success of Console 1 has made it possible to make efficiencies in production, resulting in an MSRP drop from US$849 to US$499. The hardware has the same build quality as the original units, with some minor layout changes such as more visible LED markers.
'The concept of Console 1 has been extremely popular, and we haven't been able to keep up with the demand,' confirms Oscar Öberg, President of Softube. 'I'm excited that we finally are able to manufacture larger quantities of a Console 1 that's not only better but also a lot more affordable.'
More: www.softube.com