Among the many Namm launches, Soundcraft's Si Series saw the addition of 19-inch rack-mounted versions.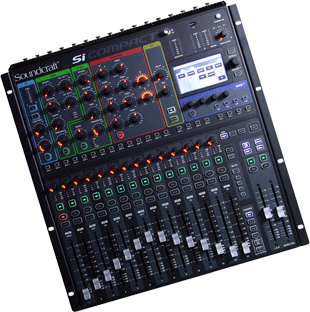 Aimed at tour sound, corporate event, house of worship and theatre applications, the Si Compact line combines Lexicon effects into three small-footprint consoles available in 16, 24 or 32 mic/line input formats, with four stereo returns. Along with their DSP functionality, the Si Compact range provides up to 40 inputs, motorised faders with Soundcraft FaderGlow,and a full encoder set for all the functions on each channel, from input gain through EQ and dynamics to bus controls. No layering of the audio controls makes operation fast and simple, and there are four separate Lexicon FX processors with dedicated FX buses in addition to the main mixes, and BSS Graphic EQ for every bus.
'While over the past two years we've expanded our digital range with high- and mid-range extensions to the Vista, OnAir, Vi and Si Series, we've been determined to drive our product portfolio down into the sub US$10,000 price points,' says Andy Trott, Harman's VP and GM for Mixing, Microphones & Headphones. 'Our strategy has been to integrate no-compromise audio quality together with innovative, feature-rich specifications and an easy-to-use-and-learn, highly intuitive user interface. Si Compact is the result of 18 months of extremely focused and creative development; it brings together so many professional features and technologies from across Harman Professional brands into a highly specified but yet super compact mixing platform at an unbelievably low price point.'
The desks' audio is in the hands of EMMA Lite, the same DSP platform found in the larger Si Series.
Key Features:
• Frames with 16, 24 or 32 mono inputs and 4 stereo channels to mix
• 14 mono aux buses
• 4 FX buses
• 4 Matrix buses
• LRC Mix buses
• 4 Stereo Lexicon Effects engines
• 4 Mute Groups
• 4 assignable insert send/returns (24 and 32 models)
• Harman HiQnet integration
More: www.soundcraft.com