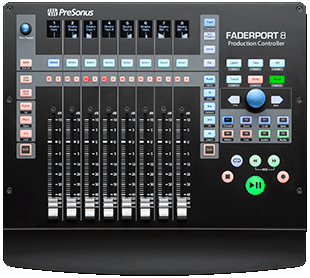 The PreSonus FaderPort 8 Mix Production Controller connects via USB 2.0 to provide precise tactile control over DAW mix and automation functions, including complete transport control.
With 8 touch-sensitive, motorised, 100mm faders and 57 buttons addressing 78 different functions, audio files can readily be zoomed for editing, click-track tempo adjusted with a simple tap, plug-in parameters modified, aux mixes managed and track levels controlled. The Session Navigator provides access to eight mission-critical functions, and there are dedicated buttons for track arming, control of mutes and Solo Clear, and selectively view specific tracks, buses and VCAs among other tasks. Additionally, there are four programmable buttons for quick and easy access your favored functions.
Large, illuminated buttons also make finding the function you need quick and easy. Eight high-definition digital scribble strips provide visual feedback. And selecting a track with a mouse causes FaderPort 8 yo follow a selection, giving another way to quickly access the function required. The FaderPort 8's streamlined workflow and support for the Mackie Control and HUI protocols offer control of virtually any DAW – no driver installation is necessary.
When used with Studio One, the FaderPort 8 can bypass all the plug-ins on any track with one button-press and open the Channel Editor and enable faders to control each channel's custom macro. The Control Link feature can be used such that the Pan/Param encoder can follow the mouse, providing instant hands-on control of any parameter – or lock the encoder to the current parameter. Session Navigator can quickly scroll through the different sections in the Arranger track, among other functions.
More: www.presonus.com