Following the launch of BlueBox Workstation Interface Recorders, JoeCo has announced a dedicated driver for all recent versions of Windows.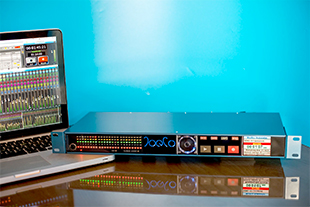 Supporting use with Windows 7, 8 and 10, the driver is suitable for the entire BlueBox range. Designed to raise the standard of DAW-based recording set-ups, while ensuring that no work is ever lost thanks its back-up facility, BlueBox is now shipping to all markets.
BlueBox protects against freeze and failure in DAW-based recording set-ups with a critical back-up, even in the event of a power failure. Delivering up to 24 channels of individually switchable mic/line inputs with best-in-class preamps on every channel, BlueBox also offers all of the features of the BlackBox Recorder for fully stand-alone multitrack audio recording in the field.
Two BlueBox Workstation Interface Recorders are available at launch – the BBWR24MP and BBWR08MP. Both are 96kHz, 24-bit models, with the BBWR24MP providing 24 channels of individually switchable mic/line inputs, and the BBWR08MP representing JoeCo's most affordable package with eight channels of individually switchable mic/line inputs and 16 channels of dedicated balanced line inputs.
In a studio environment, a BBWR24MP will deliver 24 channels of audio at 96kHz, 24 bits both to and from a workstation, with near-zero latency and simultaneously back up of all audio at the same quality. In the field, all of the mic preamps become available to deliver a fully stand-alone recorder with near-zero latency. For larger applications, multiple BBWR24MP can be connected to the same Mac (via Core Audio drivers) or Windows (via dedicated ASIO drivers) machine. You can also control a BlueBox from the workstation itself with JoeCoControl, or using the JoeCoRemote app for iPad. Both platforms allow setting of individual mic preamp channel parameters, expandable channel strips and real-time monitor mix adjustment.
'BlueBox is already off to a great start and this release of our dedicated Windows driver marks the completion of the first phase of the range's roll-out,' says JoeCo MD, Joe Bull. 'The response that BlueBox has already enjoyed shows that the market is hungry for a high-end interface that will protect work with an absolutely reliable back-up, as well as make it sound great.'
More: www.joeco.co.uk