Following the annoucement of the
addition of Dante networking
to its BlackBox Recorder, UK-based manufacturer JoeCo has released v2.1 software for the 24-track live recorder at Namm. The update includes a number of significant new features that focus on increased safety and flexibility.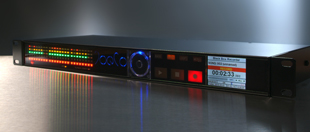 A major implementation, 'Safe 'n' Sound' record recovery enables recorded audio files to be recovered after a sudden loss of power. All recorded data can be recovered including song splits, song names and track names. The recorded files will also still be split up into smaller bite-sized pieces that some workstations rely on when importing. Once power is re-applied to the unit, the software analyses the disk and performs all the necessary recovery procedures without requiring any user intervention. The result is a perfectly configured drive with all audio material ready to import into a workstation. It renames the last song files in every recording to warn the user that there may be some extraneous noise present due to the file not being closed properly.
Further features that reduce the possibility of errors during recording and playback include a background disk scan feature, which automatically scans a drive when first connected to the BBR to ensure that free space and first available cluster fields in the File Allocation Table (FAT) are correctly calculated, or recalculated and repaired as necessary. For long recordings, the song number and song time display are now automatically adjusted to reflect the automatic splits when the BBR records over a 1G, 2G or 4G boundary. For large-scale recordings involving 48 tracks or more, the master/slave setup system has also been simplified, with additional options in the slave system now dictated by the master system leaving less room for accidental errors. A new display in the Song Name area also warns if a track about to be replayed has been recorded at a different sample rate to the one at which the BBR is currently set.
Other new features include further options for time code display, Midi control of the headphone monitor mix and hi-resolution metering, with the ability to Solo in either mono or stereo using the record enable LEDs as a very accurate horizontal meter. Reorganisation and graphical changes to some menus enable more efficient identification and handling of checked menu items.
The new software update is available for download from the End User area of the JoeCo website.
More: www.joeco.co.uk