Solid State Logic has announced the release of v3.2 software and a new TabletControl Application for its SSL Live L500 and L300 consoles.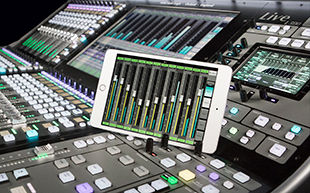 Live v3.2 software release includes more than 20 feature additions and improvements drawn from the SSL Live console professional user community. Significant feature highlights include: integrated Dante I/O Module sample rate conversion (SRC) allowing connection to a network running at a different rate or in a different clock domain; Dante 48kHz, 96kHz and 192kHz sample rate support and compatibility with AES67; and streamlining of control workflow with Quick Control assignment options and Channel Control Tile screen layout.
There are updated automation features and a new 'look-ahead' optimised automation screen layout. Effects Rack configuration has been improved and a new Multiband EQ & Dynamics per band solo mode added. And there are enhancements to the Layer Manager & Console Configuration pages and VCA's are now excluded in Super-Q in Faders mode. V3.2 software is a free release to all SSL Live console owners and is available to download from the SSL website now (min v2.5 existing installation required).
The SSL Live TaCo (Tablet Control) iOS mix app provides wireless tablet control of SSL Live consoles. Designed for both monitor engineers and artists, the app can be limited to control an individual aux mix or unlocked to quickly and easily control all mixes from a single screen. Up to ten tablets can be connected simultaneously to provide personal mix capabilities to each performer on stage. A clear graphical interface with long throw faders provides optimum touch screen mixing in critical live environments. The Menu and Bank buttons can be positioned on the left or right side of the screen, allowing for left- or right-handed use.
TaCo uses SSL's Query technology to enable only the channels contributing to a selected Aux to be displayed. This provides a highly focused view of the active mix without the need to navigate through banks of unrelated channels. Using the Live console's stem groups, input channels can be combined into logical sub groups to provide the performer with a simplified set of faders. This allows, for example, a dozen drum channels to be hidden and combined into a single 'drum' stem fader in the artist's TaCo mix app, while the engineer maintains full control of the individual channels at the console.
TaCo is an iOS only application and is available for free from the App Store. It an L300, L500 or L500 Plus Live console running v3.2 software or higher, and a wireless router or access point is required for wireless connectivity.
More: www.solidstatelogic.com