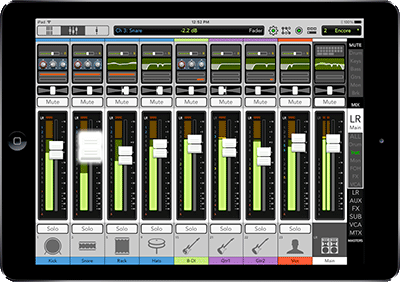 Mackie has released the Master Fader 4.5 control app for the DL32R, DL1608 and DL806 digital mixers.
Now supporting the new Mackie AXIS Digital Mixing System, Master Fader v4.5 features all-new reverbs, including a new advanced control section.
Adding another tool for live sound mixing, a Spectrograph is now available alongside the RTA. In addition, the upgraded RTA/Spectrograph tool is now also visible on every input channel for added accuracy when dialing in a channel EQ.
Other feature additions include new factory presets for all EQ, dynamics and FX. New metering ballistics choices are also available, including the ability to choose how long the meter holds an RTA peak level. Rounding out the upgrades is the inclusion of the FX return EQ when saving an FX preset.
'We've spent serious time and development on a completely new set of reverb algorithms that are a true sonic step up for any Master Fader user,' says Mackie Senior Product Manager, Ben Olswang. 'They're more realistic in every way and offer a whole range of new setting options. Your next mix will benefit from the richness and depth of the all-new reverbs.'
More: www.mackie.com