Neyrinck has announced free updates to the V-Control Pro 2 system for control of Adobe Creative Cloud Premiere Pro and Audition via V-Console running on iOS and Android tablets, smartphones and laptops.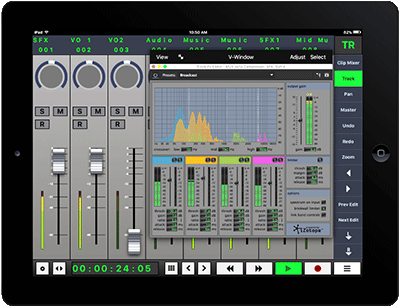 V-Console for tablets and laptops now supports three different skins for 8- and 16-fader control, as well as a short fader skin that includes a jog wheel, automation keys and programmable function keys. The skins can also access the Jog Wheel and function keys in pop-up windows.
The V-Console app now includes dedicated keys for switching between the Clip and Track Mixer, a full set of transport keys, timeline zoom, in and out marker keys, and previous and next edit keys. Automation functions can be set for the Track mixer and a group of function keys can be programmed by the user for fast access to functions they use most. V-Window function in V-Console allows users to control plug-ins in Premiere Pro and Audition using the actual plug-in screens.
V-Control Pro 2 is a complete integrated control system for OS-X and Windows and includes the free 8/16-fader V-Console control app connecting through V-Control Pro 2 software to simplify control of the main media applications. The latest version includes full support for the Adobe Creative Cloud apps, an updated version of the free V-Console app, and bug fixes. These updates are available at no charge for customers with a V-Control Pro 2 licence.
'This latest update will be welcomed by fans of Adobe Premiere Pro and Audition,' says company founder, Paul Neyrinck. 'We have had a long standing relationship with Adobe and the new features will allow editors and post pros sophisticated touch screen tablet and smartphone control, especially useful when mixing and also for remote control of voiceover recording.'
V-Control Pro 2 costs US$49.99 from the Neyrinck Store. A limited version free trial is also available. V-Console and V-Panner free apps are available from the Neyrinck website for Android and web, and from the Apple App store for iPads. Legacy V-Control Pro v1.9 iPad customers can download V-Control Pro 2 software for free for complete V-Control Pro 1.9 compatibility with their OS-X and Windows media applications.
More: www.neyrinck.com