Universal Audio has announced the UAD-2 Satellite Duo and Quad Firewire DSP Accelerator Packages.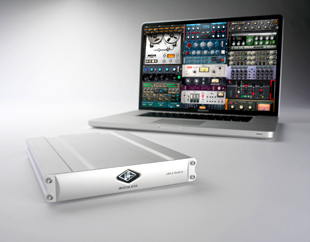 'UAD-2 Satellite is the result of UA listening to our customers, and giving them a processing solution that is both elegant and powerful,' says UA Senior Product Manager, Lev Perrey. 'Coupled with our roadmap of exciting new plug-ins, we anticipate this product expanding our 40,000-strong UAD user base significantly in the years to come.'
The UAD-2 Satellite puts the entire UAD Powered Plug-Ins library within reach of Firewire 800 and 400-equipped computers; no PCIe card installation required. In developing these UAD plug-ins, UA's DSP engineers work with leading hardware manufacturers – including Roland, Neve, Studer, dbx, Solid State Logic, Lexicon, Manley, Empirical Labs, Trident, SPL and EMT – using their schematics, golden units and experienced ears.
Available in Duo or Quad processor format (with either two or four Analog Devices Sharc processors, respectively), UAD-2 Satellite packages provide a processing 'boost' for digital audio workstations, and include a selection of classic analogue emulation plug-ins.
The newest members of UA's award-winning UAD-2 Powered Plug-Ins platform, the UAD-2 Satellite family combines DSP acceleration with the plug-and-play simplicity of Firewire 800/400 for Intel-based iMacs and MacBook Pros.
More: www.uaudio.com