Launching with five products and comprehensive control software, RedNet is a professional audio networking system from Focusrite.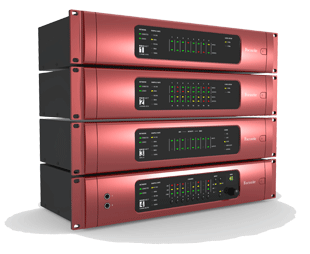 At the heart of the RedNet system is Audinate's Dante digital audio networking technology, which uses conventional IP-based Ethernet switches to carry up to 256 channels (128 inputs and 128 outputs) of high-resolution digital audio over a single, standard Ethernet network. RedNet provides extremely low latency (<3ms analogue-to-analogue) at any sample rate when using the optional Focusrite RedNet PCIe card.
Focusrite has incorporated Dante into a scalable studio system with a range of audio interfaces and components that provide a diversity of input and output options, with the simplicity and practicalities of Ethernet connectivity. RedNet is non-proprietary, allowing it to work with any ASIO- or Core Audio-compliant DAW, including Pro Tools 9, Logic and Nuendo.
RedNet interfaces can operate alongside any supported PC or Mac with an Ethernet port (including laptops), using Audinate's Dante Virtual Soundcard (DVS) driver, meaning portable RedNet rigs can be configured. However, Focusrite's RedNet PCIe card, which features its own, single Ethernet socket, is dedicated to communicating with the RedNet network.
Each RedNet I/O device includes JetPLL jitter-elimination technology, and delivers dynamic range of 120dB, with 24-bit resolution at sample rates up to 192kHz.
The RedNet range will initially comprise five products:
RedNet 1: Eight-channel A-D/D-A Interface
• Provides eight analogue inputs and outputs
• Front-panel status and signal LED indicators
• Analogue I/O on DB25 connectors
RedNet 2: 16-channel A-D/D-A Interface
• Provides 16 analogue inputs and outputs
• Front-panel status and signal LED indicators
• Analogue I/O on DB25 connectors
RedNet 3: Digital I/O Interface
• Provides 32 digital inputs and outputs
• Up to 32 channels of ADAT I/O at up to 96kHz (up to 16 channels at 192kHz)
• Up to eight channels of AES/EBU I/O (replaces one ADAT interface)
• Stereo S/PDIF I/O (replaces one AES/EBU interface)
RedNet 4: Eight-channel Mic/Line Input Interface
• Eight Mic/Line inputs for RedNet (XLRs for Mic inputs, DB25 for Line inputs)
• Eight professional, remote-controllable Focusrite microphone preamps
• Hi-Z instrument inputs on channels 1+2
• Gain Range: 63dB (0-63dB with -8dB pad; 1dB steps from +8dB to +63dB)
• Front-panel controls plus comprehensive software for remote operation
RedNet PCIe Card:
• Required for lowest latency performance, such as tracking
• Delivers 128 inputs and 128 outputs with <3ms latency
• Supports sample rates up to 192kHz
• Fits into any PC or Mac with a PCI Express card slot
More: www.focusrite.com