The Schertler Group has announced Arthur (Format48) high quality modular mixer, which can be built and configured by its users.

Designed for studio and live applications, the mixer is created from a choice of different class-A input and output modules – Mic Input, Mic Input Ultra Low Noise and Mic Input x4 units, Yellow instrument input unit, Stereo Input unit, LR Master, Aux Master and external Power-In units. These can be combined in any order and quantity to form both compact and large-scale mixer configurations. The number of units that can be included depends on the power supply used. For simpler combinations of 12 or 25 units, there is a choice of two compact power supplies. A further high-end power supply is also available: This can be used with any combination of units, from just a few to 70V or greater. (Power-In units are also required for larger configurations.)
Modules can be added, removed or re-ordered at any time, making Arthur one of the most flexible mixers on the market. Further modules are planned for release in coming months.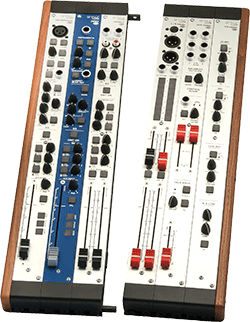 Arthur's electronic design is remarkable for its complete absence of negative feedback (NFB) from input to output. All filters and summing amps are free from restricting back loops in the mixer's straightforward high-speed design, resulting in an ultra-fast response and natural attack. All circuits are built using discrete class-A components and pure high-voltage DC amps (without any capacitors in the signal path), offering 30dB headroom and low noise, as well as unparalleled stability, warmth and transparency.
Configuring and ordering an Arthur mixer can be done through the Schertler website (Mixer area). Alongside the technical information and specs for all available modules and accessories, a Configurator enables the various units to be selected in their required quantities. The mixer's 'virtual build' can be previewed along the way as different components are added or removed. External components such as power supplies, side panels and accessories are not supplied as standard and must be ordered separately.
Once delivered, physical assembly of modules is stated to be 'a straightforward process', involving a series of connecting rods and hexagonal screws. Users are free to design personal channel sequences, as there are no mechanical or electrical restrictions, with the exception of ensuring that the appropriate power supplies have been purchased to support the number of units being used.
Arthur is available for pre-order from the Schertler online store (Europe, US and Canada only) and can also be purchased via Schertler showrooms and distributors worldwide.
More: www.schertler.com